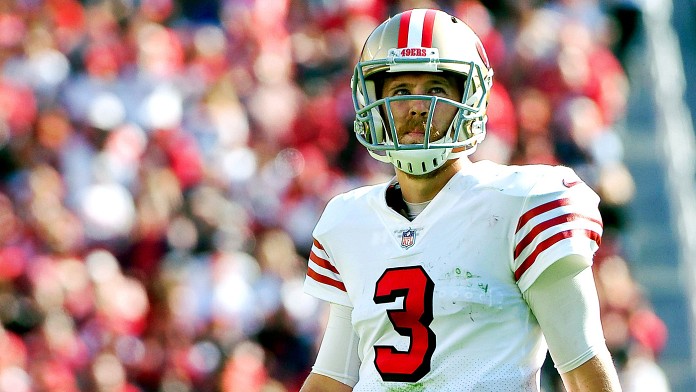 The San Francisco 49ers have released the list of inactive players for their Week 6 matchup at home against the Los Angeles Rams. These players will not suit up for Sunday's game.
Quarterback C.J. Beathard is inactive, which means Nick Mullens will back up Jimmy Garoppolo against the Rams.
Running back Jeff Wilson Jr. has been dealing with a calf injury and is inactive. Offensive lineman Tom Compton is active for the fifth consecutive game. Inactive for the second consecutive game is wide receiver Dante Pettis.
On Saturday, the 49ers activated wide receiver Richie James from injured reserve. He is among the team's active players. Also active are cornerbacks Emmanuel Moseley and Ahkello Witherspoon, as the secondary starts to get healthier.
San Francisco activated defensive lineman Darrion Daniels and wide receiver Kevin White from the team's practice squad. Daniels is inactive while White is active. Both will revert back to the practice squad after the game.
Below are the players who will be inactive for the 49ers:
More San Francisco 49ers News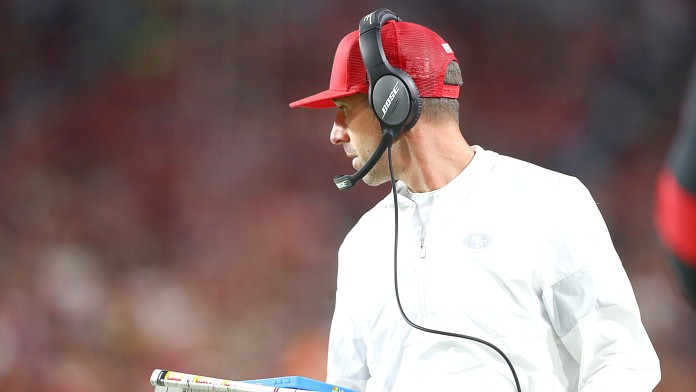 Kyle Shanahan talks 49ers-Rams, Jimmy Garoppolo, Aaron Donald, Dante Pettis, QB depth chart
By Site Staff
Oct 14, 2020
San Francisco 49ers head coach Kyle Shanahan spoke with reporters before practice on Wednesday as the team prepares to play the Los Angeles Rams. Here is everything he had to say.
Transcript provided by the San Francisco 49ers Communications staff.
Opening comments:
"Injuries for today, we've got [LB] Kwon Alexander, high ankle sprain. He'll be out. [CB] Dontae Johnson, groin. He's still out. [DL] D.J. [Jones] is likely full out there today and [CB Emmanuel] Moseley, progressing back from the protocol. Should be in a blue jersey out there, so should be limited. Go ahead guys."
When it comes to Los Angeles Rams DL Aaron Donald, is there a tougher defender for you to game plan against and what's worked in
ESPN proposes 49ers trades involving Dante Pettis, Tarvarius Moore to get help at TE, Edge
By David Bonilla
Oct 15, 2020
Bill Barnwell of ESPN proposed 13 trades that could happen before the deadline on November 3. The San Francisco 49ers are involved in two hypothetical scenarios.
The first is a trade that sends defensive back Tarvarius Moore to the Cleveland Browns in exchange for tight end David Njoku. Barnwell notes the Browns' desperation to find help at the safety position, and the 49ers could use someone to help replace injured tight end Jordan Reed, who suffered an MCL sprain on September 27.
"Moore was a promising free safety prospect coming out of Southern Miss, but the 2018 third-rounder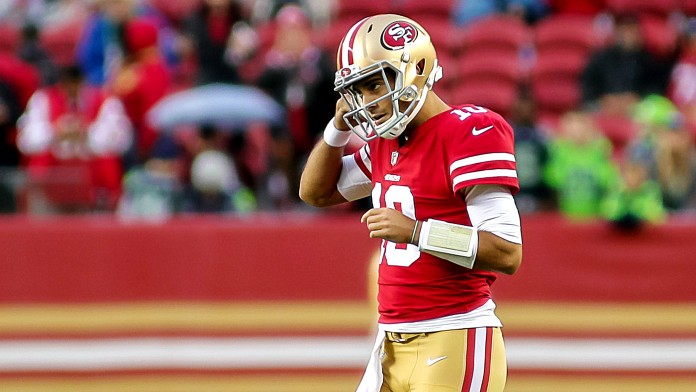 Jerry Rice feels Jimmy Garoppolo wasn't ready, expects C.J. Beathard to start for 49ers-Rams
By David Bonilla
Oct 12, 2020
Jimmy Garoppolo didn't sound overly confident that he would start on Sunday night when the San Francisco 49ers host the Los Angeles Rams at Levi's Stadium. The Niners still seek their first home win of the season, and Garoppolo didn't play particularly well (OK, it was really bad) during this past weekend's embarrassing 43-17 loss to the Miami Dolphins.
Garoppolo had missed two games while recovering from a high-ankle sprain and didn't look completely healthy as he went 7-of-17 for 77 yards with two interceptions and a passer rating of 15.7.
"I really haven't thought that far ahead," Garoppolo responded when asked about his chances of playing in Week 6. "I guess we'll